>>>
FOR SALE BY PUBLIC AUCTION
TO BE CONDUCTED BY LOCAL AUCTIONEERS UNDERWOOD WRIGHT
>>>
ON
SAT 25 MAY 2019 1100 hrs
AT
NORTH DEVON YACHT CLUB INSTOW
"MISTY BLUE"
A MAYLAND FISHERMAN 19 MOTOR BOAT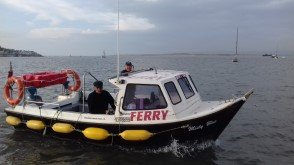 >>>
GBMAYF31051999 - built in 1999.  Used as Appledore Instow ferry from Jun 2011 to Oct 2018.
    Boat Length 19ft [5.8m]; Beam 7.5ft [2.3m], Draft 1ft 4 [0.4m].
    Suitable for engines up to 90hp [67kw].        
   Outboard Engine - Yamaha 50 - purchased 13 Mar 2012.  £7300 fitted.
   Regularly serviced, including over winter services. New reverse gear 2017.
   Use profile 15-30 mins warm up, 3-4.5 hours operating at below 6kts (about 2000 rpm).
   Avg 300 hours per annum
   Cable steering.   Built in seats and stowage compartments either side and under the cuddy cabin.
   Floor deck and supporting sub structures all replaced Feb 2014.
>>>
Standard Horizon Explorer GX1700 E VHF with built in GPS and 1.5 metre whip antenna.
   Garmin Fishfinder/Depth Sounder (GPSmap550s - but no GPS antenna).
   Ground tackle comprising Byers Fluke anchor, 3 metre galvanised chain (8 mm), 20 metre nylon rope   
   (3   strand 15mm)
   Copper coated anti foul in Feb 2016.
   Three fire extinguishers (one foam, two powder) inspected and certified to Mar 2020.
   Boat Cover.
   Engine handbook.
   There is no trailer. 
   The boat is currently in North Devon Yacht Club boat park with fees paid to end May 2019.
   There is no VAT liability.
    All ferry functional extras (fenders, safety gantry, life float, life rings and decals) have been removed.
TERMS AND CONDITIONS OF SALE
The sale will be conducted by independent public local auctioneers Underwood Wright.
Viewing.  The boat can be viewed by prior arrangement from Mon 20 May, contact via the Appledore Instow Ferry website.  Alternatively the boat can be viewed from 0900 hrs on Sat 25 May at NDYC, Instow.
Boat Park Fees.  The successful bidder will become liable for NDYC boat park fees from Sat 1 Jun.
         Requests for further information.  These can be made via the web site.
Deposit and Payment.  A cash deposit of 10% of the sale price is payable on the day, with the balance payable by Bankers Draft or BACS within 5 days. 
The keys to the vessel will be handed over on the successful receipt of the balance into Appledore Instow Ferry Limited account. 
Failure to transfer funds within this time frame will, at AIFL discretion, result in the vessel being offered for sale again.
THE FERRIES ARE NOW TWEETING
Follow the ferries' news and status on @appleinstferry. If the ferry cannot operate due to high winds a message will be put on Twitter and of course Facebook.
WOULD YOU BE INTERESTED IN SPONSORING THE FERRY?
The Appledore Instow Ferry is a not for profit company and has endeavoured to keep the prices as low as possible. However, we do need to cover the costs of running two boats and sponsorship is the perfect way for companies and businesses to show their support for the ferry operation and advertise their business, as you can see from the logos on the Home page. For more information please use the Contact Us page and one of us will be in touch with you.
TANDEMS AND BICYCLE TRAILERS
The fares for the ferry remain the same for another season which allows us to cover our costs as a not for profit company. The ferry is licensed to carry twelve people and two crew, which includes the skipper. The ferry is able to take buggies and bicycles but the skipper will make a decision if there are some large buggies and a number of bicycles, to balance the number of passengers, buggies and bicycles - so please be patient if you are not able to get on the first available ferry.
We have made the decision to charge £3 for tandems and if a bicycle has a trailer there will be a cost of £1.50 for the trailer.
JOHNS OF INSTOW
Johns of Instow has a cafe next door to their deli. The cafe offers gluten-free, dairy-free and vegan options as well as all the wonderful pastries and cakes that they offer.
Appledore village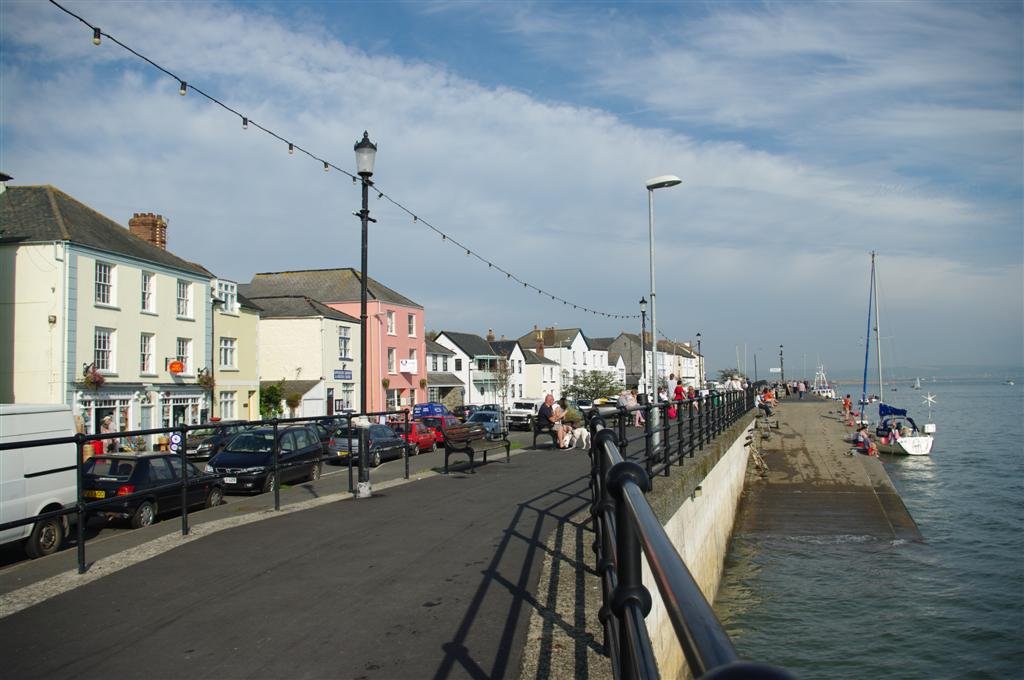 Appledore is a quaint fishing village where you can wander the cobbled streets and find secret gardens and interesting door hangings. It has thriving local artists and numerous art galleries and craft shops, and is well known for its Visual Arts Festival, the book festival and the carnival that are held during the year. Read More
Instow village
Instow is a pretty, unspoilt seaside village with large stretches of sandy beaches and dunes. Fishermen's cottages nestle against shops and a good selection of pubs and restaurants. The village store and delicatessen are superb.  Read More